Official DO-IT production representative in Lithuania, Latvia, Estonia, Belarus and Kaliningrad
Available in countless sizes and styles, Do-It Hang Tabs create merchandising opportunities and raise brand awareness.
Do-It can work with you to design a custom hang tab that meets your retail display needs.
MERCHANDISING DISPLAY STRIPS
Ideal for cross-merchandising and displaying items in limited space, Do-It Display Strips boost impulse purchases.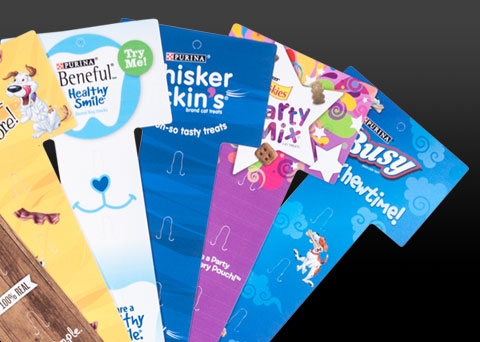 INCREASE POINT OF PURCHASE SALES
Do-It's point-of-purchase display options can draw customers' attention to your product and your brand.
Less packaging. More sales.
Ideas that can reduce packaging and boost sales!
All Do-It Products are designed to get your products noticed in any retail environment. While we specialize in plastic, self-adhesive hang tabs, we also make merchandising display strips, printed hang tabs, shelf wobblers, on-product instant redeemable coupons (IRCs), carry handles, and promotional bottle neck tabs.
Hang tabs and merchandising display strips allow a product to be displayed vertically, face-forward, increasing your product's brand awareness and maximizing your merchandising display options. This means your products can be cross-merchandised or displayed in several different locations within the same store. Putting your product where customers see it increases impulse purchases and overall sales. Do-It Hang Tabs are often used to repair damaged packaging in the store, also increasing the likelihood of the product being sold.
When incorporated into your packaging design, hang tabs are designed to hang products and reduce or eliminate bulky packaging often required to display products in retail stores. Reducing packaging reduces waste and starts an environmental chain reaction throughout the product package development process. Smaller packages need smaller master cartons, smaller inventory space, and less energy to transport. Less packaging also allows you to display more product in the same amount of space.
Do-It Hang Tabs can be provided in clear plastic or can be printed. All products can be produced in several plastic and adhesive choices, depending on the performance requirement and customer preference. Do-It Products are safe and FDA compliant for indirect food contact.